The Plantation Golf & Country Club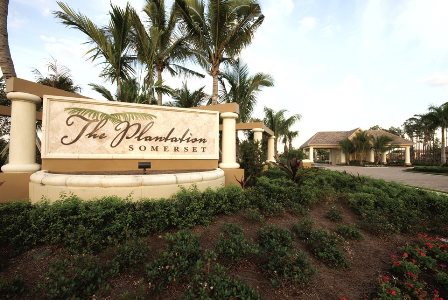 10500 Dartington Drive
Fort Myers, FL 33913
Phone: (239) 561-8650
Fax: (239) 561-7618
The Plantation Golf and Country Club is the ultimate golfing lifestyle. This gated community abounds in native trees, preserve land and striking fairways. The Plantation golf course, which anchors the community, is carved out of open areas, preserving the natural habitat for the enjoyment of the residents.
The golf course, designed by Hurdzan-Fry, provides a challenging, thought provoking and fun experience. The fairways have numerous rolls and dips to create definite target areas, and the greens are highlighted with many chipping areas contoured to truly test the players' short game skills. The bunkering is in the "Pinehurst" style – not overly deep, but steep faces.
To Book a Tee Time, Please Call (239) 561-8650.

Member Cart Fees - $20 per person (Applicable to all Members)
Tee times may be booked up to seven days in advance.
Guest of Member Rates
$35 per person (May - Oct)
$75 per person (Nov - April)
Member Bag Storage / Locker fee - $100 per item annually. Pro-rated after January.
Reciprocal Rates for Plantation Members
The Quarry - $25 per person | Riverwood in Port Charlotte - $25 | River Hall in Alva - $25
Reciprocal Rates Also Available at Other Hampton Golf Facilities - Click Here for details.
All dues, fees and charges are subject to applicable taxes and may be changed at any time, with or without notice.